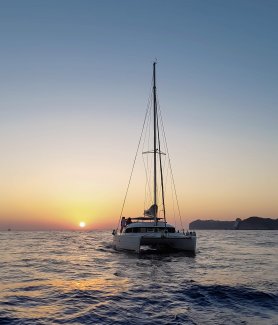 Activities
Explore Santorini your way. The options are infinite.
Make the Most of Your Stay in Santorini
There are some Santorini experiences you simply can't afford to miss and a caldera cruise is among them. Be it a daytime or a sunset escape, this is the ultimate must. During the golden hour, the Aegean horizon is dressed in the most awe-inspiring colours and an evening walk at Oia is a sure-fire sensation for those wishing to take in the spellbinding view of the sunset. You have probably heard the rumours about the phenomenal wine scene of Santorini and there is no better way to spend an evening than a visit to one of Santorini's many old wineries, famous for their top-tier wine produce, including the renowned Vinsanto wine. The island's rolling interior is home to endearing rural landscapes and quaint villages, such as Pyrgos, Megalochori and Emporio that will give you a glimpse of local life. You can explore Santorini's inland as you hike the extensive network of trails available here or by setting out on an unforgettable horseback adventure.