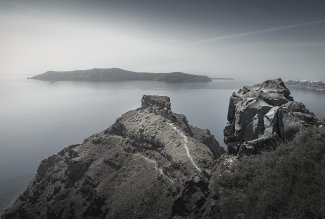 Sights
Dive deep into the secrets of a world-famous destination.
A Taste of Santorini's Best
Santorini's star attraction is the celebrated caldera; a geological phenomenon that casts its spell on nature lovers and romantic souls! The large, mostly submerged caldera, can be best-admired from the picture-perfect settlement of Oia with its legendary sunset views. The Venetian castles of Santorini are yet another sight you can't afford to miss. The stunning Agios Nikolaos castle in Oia, as well as the castles of Skaros, Pyrgos, Emporio & Akrotiri, open up to mesmerizing sea vistas that will soothe your soul with their beauty. For those who wish to add a historical perspective to their trip, all roads lead to the Bronze Age settlement of Akrotiri and the site of Ancient Thera in Mesa Vouno. With a wealth of museums present on the island, you will be thrilled to discover more about Santorini's past and culture in the Archaeological Museum, the Icons & Relics collection and the Maritime museum, among many others.