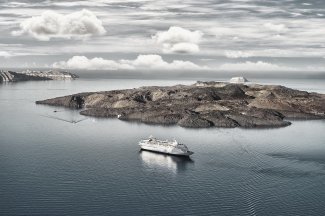 History
Once upon a time in ancient Thera… The story so far. 
A Fascinating Journey Across the Centuries
Some 3,500 years ago a volcanic eruption shook the earth so vigorously that devastated the ancient island of Thera. Lava and ash left behind them a landscape of raw wild beauty; a lagoon with black-sand beaches, volcanic islets, rugged cliffs, and mystifying rumours about a mythical city, the legendary Atlantis that was swallowed up by the waters of the Aegean Sea… Are you craving to explore Santorini's fascinating past? From the ruins and the stunning, vividly coloured, wall paintings of the prehistoric civilization of ancient Thera to the island's Venetian heritage and the gorgeous, views galore, fortifications and castles, this is a destination rich in history and culture; a journey you will forever remember!