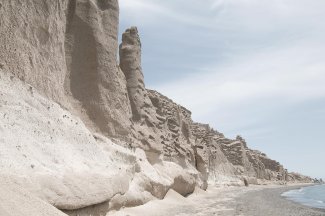 Beaches
Experience the dramatic coastline of a volcanic wonder.
Gems of Santorini's Coastline
Full of rugged charm and stunning landscapes, Santorini's coastline arrests the eye and invites you to take a deep dive. Beaches in Santorini are composed of volcanic sand and black pebbles and some of its most surreal shores include the sandy splendour of Vlychada beach, the impressive white cliffs of the White beach and the other-worldly charm of the Red beach. Add to this the long stretch of black sand in Perivolos and Perissa and the lively vibes of Kamari and you have a list with Santorini's must-see-and-visit swimming spots. Should you wish to go off-the-beaten-path and explore some less-visited corners, head to Koloumpos, Exo Gialos, or Baxedes beach, while a visit to the scenic bay of Ammoudi is also highly recommended.